"Canada, bright futures begin here"
Filling my lungs with the fresh, cold air I stood there. Glimpsing at that signpost that is covered with those letters with my eyes half opened because of the radiant sun. Today was my first school day at Queen Elizabeth, my new undiscovered high school for the next six months. I feel euphoric about this great opportunity to study abroad, which is giving me by START, my sponsorship L'Oréal and "Sag's Multi!".
Since I have been here I could gather plenty of pleasurable experiences for which I feel very thankful. My first months were filled with many fascinating conversation between hearth opened Canadians and me, an improvement of my English accent through the challenging classes and new precious friendships I bound.
Although taking this grand step into the new and unknown means to be separated from my trusted environment, I am more than glad that I have taken this chance. Now, I am feeling connected with Canada as if it is my very own home. Thank you START, L'Oréal and "Sag's Multi!" for your great support!
I would highly recommend and encourage anyone who would like to study abroad to take a heart and do it. You will be at a place, where you discover a foreign culture and where you grow with it. For me is this place Canada, a place where bright futures begin…
Edmonton, April 6, 2013 – Molinda Chhay
______________________________________________________________
I am Saifur Rahman, a Rotary Youth Exchange Student in Canada.
I am living in Canada since 8 month and I love it.
I am going to Humberview High School and taking grade 11 and 12 courses. The school system in Canada is different than in Austria. The school begins at 8:30 am and ends at 3:00 pm. The school bus picks you up in the morning and drops you at home after school. You better not miss the bus, otherwise you have to run all the way. There are two semesters a year. In each semester you take 4 to 5 courses. One school day has 5 periods, each period is 70 minutes. The teachers give first the lesson and at the end of the class they provide time to apply what have learned. I think that is smart and very helpful. Usually the third or fourth period is lunch period. Lunch time can be fun.
The high school is like in the movies. The students have to move to their classes not the teachers. You don't spend the whole day with the same students, just like in universities. I have awesome teachers. They don't just teach facts. They have understanding for the students. I like when they make the lesson a game. At the same time the class is seriously important. No wonder why Canada is doing so well in PISA-Tests. I find the marking scheme is more open.  I think the Rotary Youth Exchange Program could help you with your future studies.
I love the after school activities. I am on the rugby team. The teachers coach for free, who are professional coaches. We practice every day after school for two hours. There is at least one tournament in two weeks, that means one day off school. We play against other high schools. If the team does well then we will play in the provincial championship. The province that I am living in is almost 20 bigger than Austria. So championships are pretty though.
As a Rotary Exchange Student life is totally different. I am living in a house that is the size of castle and more beautiful than a palace. The Rotarians are amazing people. They take me out on air plane trips, to Chinese and Cambodian restaurants, on boat trips and lots, lots more. My life in Canada is like in heaven. I am the baby of a big and wonderful family.
I am living in Caledon, close to Toronto. The big different is that Caledon is not a city like Vienna. Caledon is a town in the country side. We don't have the excellent public transport. The culture and people are very open. Integration isn't an issue.
What I love about Canada are the people, who are so friendly. I made friends quick and easily. I really like it in the country. You have a big house with a garden, full of flowers and the air is always fresh.
It makes a big different if you live in a country as an immigrant or in a country that is your home. I would love to write more about my experiences, but I think there are too many to mention here.
Thank you START-Stipendium and Rotary for giving me such a great opportunity. My exchange brought the best out in me and opened the golden doors for the rest of my life.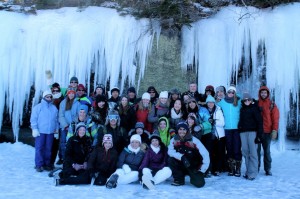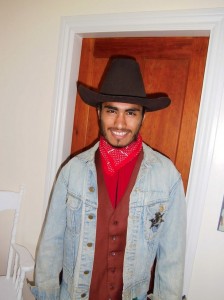 Saifurrahman Rahmani – Caledon/Ontario