START is not a classical refugee care organization; we support pupils with migration background coming from low-income families. But 67 % of our current fellows already are refugees, numbers increasing every year. START is not only an educational project but also an integration project and in parts a social project. 


Full scholarship as part of the START scholarship program includes:
assistance with career and study orientation, internship, job search, seminars, field trips to companies & public institutions, regional workshops
monthly allowance (100€/month), additional funding (700€/year) for language courses & field trips with school, laptop & internet
counseling & companionship
Individual coaching & mentoring, legal support, social counseling,
START-scholarship for talented students with migration background.
The scholars share a determination for their own education, are socially committed and have an outstanding personality.
They participate in social/community activities or perform volunteer work in their schools. Living in a precarious financial situation, crowded living conditions or missing parental support makes it hard for them to unfold their full potential or cover their expenses in school.
But the START-fellows have the courage to take these challenges and actively shape their own lives and the world in which they are living.
START supports students and young adults with a migration background on their way to the "Matura".
The program supports the scholars on this way and helps them to make good use of their talents. With providing long term support for young immigrants START works on the vision of fair access to education, social interaction and solidarity in the Austrian society.
Currently we support 147 students from Vienna, Upper- and Lower Austria, Salzburg and Vorarlberg and 465 alumni.
The heart of our work lies in enabling our scholars to benefit from intensive educational opportunities. START offers a broad range of seminars, workshops, study trips, art projects, athletic activities and company visits with our local sponsors. The scholars view these as enrichment for their overall personal development. START-advisors accompany the students in this process with individual counsel and support and encourage them to develop their own goals. START provides wide-ranging financial support to cover expenses with educational purpose. We also encourage scholars to network with each other and with the START-alumni.
Who is supported by START?
FOR YOUNG PEOPLE WITH MIGRATION BACKGROUND
START is a scholarship program that empowers young people with a migration background to finish high school and to aim for a higher education. We support regardless of nationality and immigration status pupils who:
• visit the upper stage of a general secondary school, a high school or a vocational high school, an extra-occupational high school in addition to their apprenticeship,
• are between 15 and 21 years old
• are committed volunteers,
• have good school-performance
• are financially needy
• improve the opportunities of capable and determined pupils with migration background.
• encourage gifted and dedicated pupils to aim for a higher education.
• enable these pupils to focus on school.
• improve the conditions and accessibility for an academic career.
• open doors into professional management positions.
• highlight the example set by fellows for others.
• qualify the fellows to mediate between the different groups of people / prospects in a migration society.
• activate and reflect the intercultural skills of fellows, make this potential visible for the whole society.
• contribute to a chance in perspective concerning the often negative discourse on immigration / migration in Austrian society.
• enable and empower young people to participate actively and thereby shape our society.
• build a stable network of mutual support among the fellows, supporters and partners of START that stands for anti-discrimination, respect and a focus on potential rather than deficits.
• inspiring Austrian society to be more open, transparent and equitable.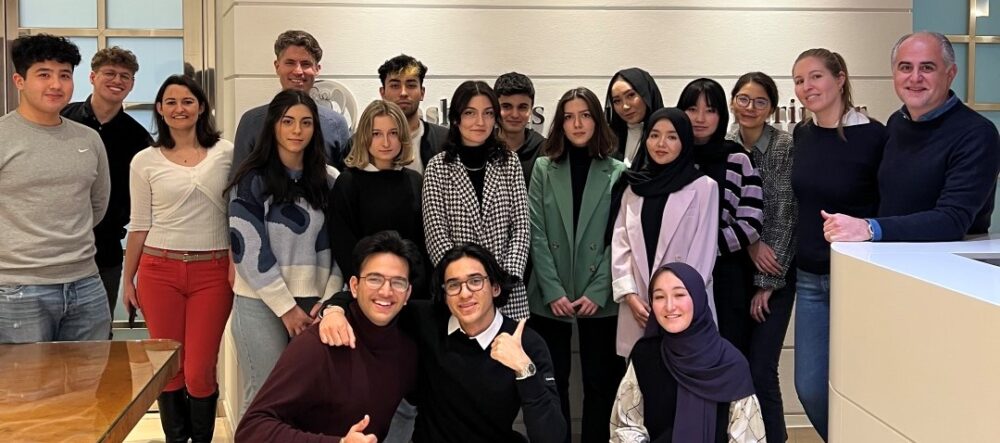 Every graduated START-Fellow can join the START-Alumni Association, a non-profit network of students and young professionals who have come together to engage in Austria. As graduates of the START-student scholarship program, they understand the Alumni as a voice for young dedicated people with an immigrant background. The aim is to highlight the positive aspects of a diverse, cosmopolitan Austrian society. In this sense they are trying change the image of young immigrant people in a positive way. Another concern is to promote dialogue between the Austrian majority population and young adults with a migration background. START Alumni not only wants to build bridges between cultures but also between generations.
William D. Dearstyne,
Strukturförderer START-Vorarlberg
William D. Dearstyne,
Strukturförderer START-Vorarlberg